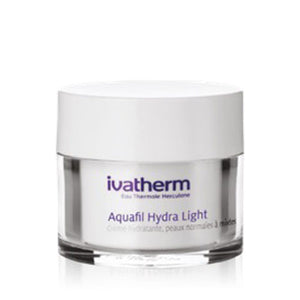 Ivatherm Aquafil Hydra Light MD Exclusive
₱1,800.00

₱1,800.00
Deeply moisturizes immediately and on the long term. Recommended for sensitive, dehydrated, normal and mixed skin. Light texture; normalizes sebum secretion all day long. Restores skin supleness and prevents wrinkle formation.
Apply morning and evening to cleansed dried skin. An excellent make-up base.
Aquaphyline® - extracted from wild pansies (Viola Tricolor), has a strong moisturizing effect by two mechanisms: aquaporin synthesis and increasing the amount of Hyaluronic Acid. 5-Alpha avocuta® - obtained through bio-technology from the avocado fruit, limits sebum secretion by inhibiting 5-alpha-reductase. This is the enzyme that catalyzes the metabolism of testosterone into dihydrotestosterone by stimulating the sebaceous glands. Alphabisabolol - extracted from Vanillomopsis Erythropapa (Amazon forest tree), has a strong anti-inflammatory action. Being a natural extract, it does not have allergic effects. Herculane Thermal Water - diminishes the rash and softens the skin due to its calming and anti-irritant properties. Its anti-inflammatory properties recommend it for sensitive and reactive skin.
---
---
We Also Recommend
---