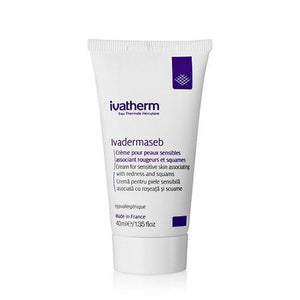 Ivatherm Ivadermaseb Cream MD Exclusive
₱1,400.00

₱1,400.00
Repairing anti-inflammatory and moisturizing cream, which ensures the complete skincare of areas with seborrheic dermatitis (redness and flakiness)–wings of the nose, forehead, eyebrows, chin (adults) and forehead and scalp (cradle cap in infants). It has an anti-irritant action; an antifungal and antibacterial; it regulates peeling and reduces excessive sebum production.
Apply morning and evening on clean, dry skin. Skin cleansing is best to be done with Ivadermaseb cleansing gel anti-redness and anti-squams 200ml.
Crinipan AD ® (Climbazole) - efficient and selective antifungal action against Malassezia furfur. Octopirox (piroctone olamine) - both an antibacterial and antifungal action against Malassezia furfur. Alphabisabolol - extracted from Vanillomopsis Erythropapa (Amazon forest tree), has a strong anti-inflammatory action. Being a natural extract, it does not have allergic effects. 5-Alpha avocuta® - obtained through bio-technology from the avocado fruit, limits sebum secretion by inhibiting 5-alpha-reductase. This is the enzyme that catalyzes the metabolism of testosterone into dihydrotestosterone by stimulating the sebaceous glands. PCA Ethyl Cocoyl Arginate - a powerful antiseptic, bactericide, pyrrolidone carboxylic acid derivative, a constituent of NMF (Natural Moisturizing Factor). Intensely moisturizes. Herculane Thermal Water - diminishes the rash and softens the skin due to its calming and anti-irritant properties. Its anti-inflammatory properties recommend it for sensitive and reactive skin.
---
---
We Also Recommend
---