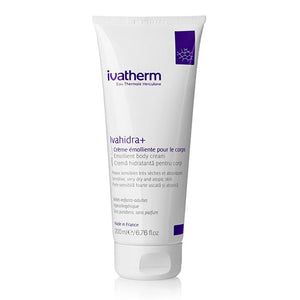 Ivatherm Ivahidra + Emollient Hydrating Body Cream MD Exclusive
₱1,400.00

₱1,400.00
Repairing and restructuring cream for very dry, atopy-prone sensitive skin; an emollient cream that provides deep, immediate and long term hydration. It is also very well-tolerated by the delicate skin of children and babies. With nourishing, anti-inflammatory, and antibacterial intense effect; and soothes discomfort and itching.
Apply morning and evening on clean, dry skin.
Aquaphyline® - extracted from wild pansies (Viola Tricolor), has a strong moisturizing effect by two mechanisms: aquaporin synthesis and increasing the amount of Hyaluronic Acid. Shea butter - contributes to skin hydration and nutrition through vitamins and essential fatty acids that increase the suppleness of cell layers. Due to the content of phytosterols it has an anti-inflammatory and healing effect, reduce erythema (irritation) and pruritus (itching). Alphabisabolol - extracted from Vanillomopsis Erythropapa (Amazon forest tree), has a strong anti-inflammatory action. Being a natural extract, it does not have allergic effects. Alantoin - for repairing, antiseptic, calming effect. Glycerin - limits transepidermic water loss and provides skin comfort. Herculane Thermal Water - diminishes the rash and softens the skin due to its calming and anti-irritant properties. Its anti-inflammatory properties recommend it for sensitive and reactive skin.
---
---
We Also Recommend
---