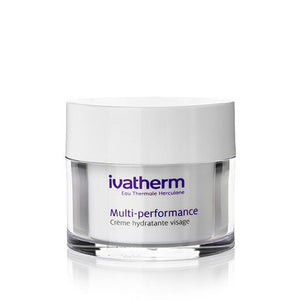 Ivatherm Multi-performance Hydrating Face Cream
₱1,800.00

₱1,800.00
Hydrates and ensures the intake of essential fatty acids and physiological balance of the skin cell regeneration. Dehydration occurs by altering the skin barrier function, by disrupting the default skin metabolism of skin lipids (ceramides, essential fatty acids).
Apply in the morning and evening on the face, around the eyes and neck.
Hidroxiceramide - increases the cohesion of the skin cells (corneocytes) thus causing the regeneration of the skin's lipid barrier. Hyaluronic Acid - improves water retention in the skin. It provides control in the protein, enzyme, and hormone transfer between the cells. Borago oil - rich in polyunsaturated fatty acids. It restores the protective epidermal barrier, limiting trans-epidermal water loss. Karite butter (Butyrospermum parkii) - contributes to skin hydration and nutrition through vitamins and essential fatty acids that increase the suppleness of cell layers. Through its content of phytosterols, it has an anti-inflammatory and healing effect, reduces redness and itching. Sweet almond oil - acts synergistically with Shea butter thus completing the restructuring, nutritional, and soothing properties of the product. Herculane Thermal Water - proven anti-inflammatory properties and is indicated for sensitive and reactive skin. Calms the skin and has anti-irritant effect.
---
---
We Also Recommend
---